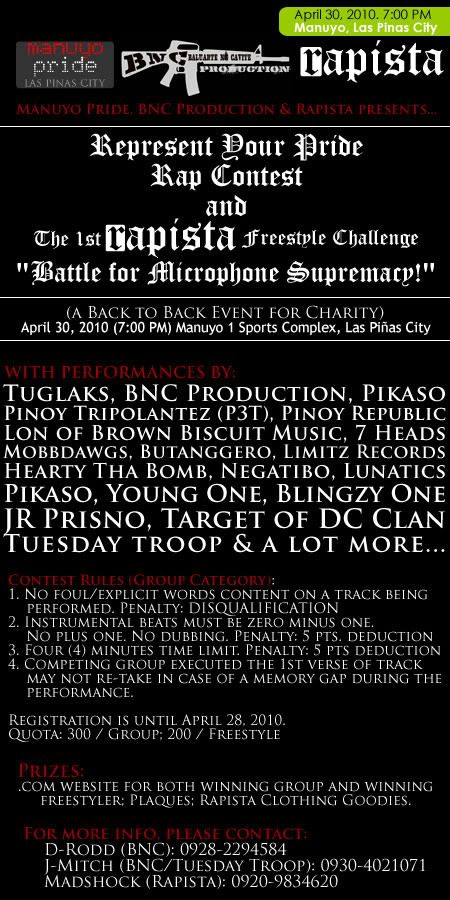 Manuyo Pride, BNC (Baluarte ng Cavite) Production & Rapista presents...
Represent Your Pride Rap Contest
and
The 1st Rapista Freestyle Challenge
"Battle for Microphone Supremacy"
(a Back to Back Event for Charity)
April 30, 2010. Manuyo 1 Covered Court, Manuyo, Las Piñas City
with performances by:
Tuglaks, BNC Production, Pikaso, Pinoy Tripolantez (P3T), Pinoy Republic, Lon of Brown Biscuit Music, 7 Heads, Mobbdawgs, Butanggero, Limitz Records, Hearty Tha Bomb, Negatibo, Lunatics, Young One, Blingzy One, JR Prisno, Target of DC Clan, Tuesday Troop and a lot more...
Rules:
No foul/explicit words content on a track being performed. Penalty: DISQUALIFICATION
Instrumental beats must be zero minus one. No plus one. No dubbing. Penalty: 5 points deduction in case of violation of rules.
Four (4) minutes time limit. Penalty: 5 points deduction in case of violation of rules.B/li>
Competing group executed the 1st verse of track may not re-take in case of a memory gap during the performance.
Registration is until April 28, 2010.
Quota: 300 / Group; 200 / Freestyle
Prizes: .com website for both winning group and winning freestyler; Plaques; Rapista Clothing Goodies.
For more info, please contact:
D-Rodd (BNC): 0928-2294584
J-Mitch (BNC/Tuesday Troop): 0930-4021071
Madshock (Rapista): 0920-9834620
This entry was posted on Tuesday, April 27, 2010 at 9:36 AM. You can follow any responses to this entry through the RSS 2.0. You can leave a response.